By: Kathleen Phillips, 979-845-2872, ka-phillips@tamu.edu
COLLEGE STATION — With more than 5,200 acres on its campus, some might think Texas A&M University's roots in agriculture would have produced a showy, public garden by now.
Almost. The Texas A&M Gardens and Greenway Project is just beginning, but officials say the effort will be worth the decades it took to evolve.
Claiming 45 acres on the western part of the campus in College Station, the gardens will have more than 20 different features extending from the Horticulture and Forest Sciences Building to John Kimbrough Boulevard near the Bush Library, according to project coordinator Dr. Doug Welsh.
Construction of the AgriLife Complex on the more open western campus in 2012 created a "backyard," including White Creek running from north to south on the property, said Welsh, a retired Texas A&M AgriLife Extension horticulturist who was rehired "to think about the garden 24/7 and move it forward."
Welsh said a team of faculty, staff and students dreamed up what to do with the green space that was officially allocated in the university's master plan.
  "It could have ranged anywhere from a true botanic garden, which is a zoo for plants, all the way to an open place or straight park just for recreation," he said. "We've boiled it down to our core functions, and No. 1 is teaching. It has to be an outdoor laboratory."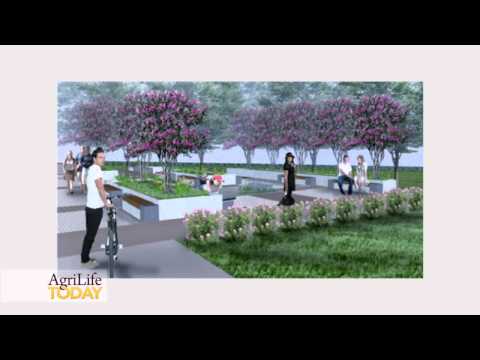 Welsh said the garden will include a variety of spaces — green space, native tall- and short-grass prairies, White Creek's riparian area, post oak savannah, wetlands and wildflowers — and it will be useful for many different academic disciplines beyond horticulture and range management.
"I can see students in education who are learning to be primary and secondary school teachers bringing children to this garden setting to learn about science and the environment," he said.
The area will have an outdoor amphitheater that can seat 500 and accommodate another 500 on the lawn, plus pavilions to help protect people from weather.
"With 45 acres it sounds like a lot, but it's really not with the number of things that we want to do in the gardens," Welsh noted. "So everything has to be multi-use.
"And as much as 50 percent of the property will be in more of a natural landscape, which is good for the wildlife, specifically about 50 species of birds that traverse this area."
The idea of having a public garden has been around at Texas A&M University for at least 20 years, Welsh said, but many kinks put such a space out of reach — most notably the long-term maintenance needs.
"Building a garden is relatively easy," he said. "It's the long-term maintenance that will kill you over time — and that's true of both residential and public gardens."
Key to the establishment and perpetual care of the project, therefore, will be funds for both construction and maintenance, he said.
 "It's pricey, but the $60 million total includes $30 million in construction and a $30 million endowment," Welsh noted. "Now those are big dollars, and this may happen over a period of three to five years or it may be a 20-year process. We are just entering the fundraising phase."
The master plan was devised by Texas A&M landscape architecture and urban planning students under the guidance of Dr. Jon Rodiek. It is designed so that if a donor contributes to one part of the space — such as the rose garden — construction will begin on that part, Welsh explained.
"We'll have an opportunity to showcase the great work of Texas A&M AgriLife and all the professionals across the state, because we'll grow Texas Superstars, Earth-Kind roses, a vegetable garden and a fruit orchard," he said. "We can have change-out gardens in that we can have a design contest, and those who win will actually implement that design in a space — whether it's a butterfly garden, a dragonfly garden, a bird garden or wildscaping or xeriscaping or any thematic garden. We'll enjoy those gardens for 12-18 months and then will pull them out and do it again. And that's what I think helps create interest and continued interest in any garden."
He also said the space could be a model for what can be done to enhance other similar types of spaces.
"There are thousands and thousands of creeks like White Creek all over the state," he said. "They cause stormwater and management issues. And what we hope is that this could be a model of what can be done to turn land into a positive versus the negative aspect," he said.
"This Gardens and Greenway Project will not have any fences. It's open not only to the Texas A&M faculty, students and staff but to the public at large — the Bryan College Station area and beyond — to come and enjoy."
To find out more about the Texas A&M Gardens and Greenway project, visithttp://agrilife.org/texas-am-gardens-and-greenway-project/